Our fellows devote their summers working for public interest or government organizations that, without external funding, would not be able to afford to hire legal interns. The organizations they work for range from the U.S. Department of Justice to Texas RioGrande Legal Aid.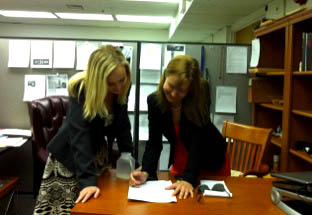 Sponsored summer work spans the political spectrum, from FIRE to the ACLU. TLF sends students to work throughout the state of Texas, across the country, and abroad. Organizations interested in hosting a TLF Fellow should contact the UT School of Law Career Services Organization to discuss posting jobs or interviewing UT students. Any UT student who secures a position with a qualified organization is eligible for funding.
Thanks to the generous support of the UT Law and Austin legal community, TLF was able to fund all fellowship candidates for the summer of 2017! We're pleased to announce the following recipients:
TLF 2017 Recipients
Named Fellowships

American Constitution Society
Laura Mahler – Felony Unit at the Office of the Federal Public Defender for the Eastern District of California
American Journal of Criminal Law
Paul Adamski – Travis County District Attorney's Office
David C. Frederick
Leah Rodriguez – RAICES
Delta Theta Phi International Law Fraternity
Gregorio Flores – Harris County Public Defender's Office
The Federalist Society
Landon Campbell – Hays County Criminal District Attorney's Office
Hispanic Bar Association of Austin
Sarah "Colleen" Tennent – Equal Justice Center
Anna Kochut – Equal Justice Center
Jordan and Carol Steiker
Mihret Getabicha – New York City Anti-Violence Project (AVP)
OUTLaw
Ashley Craythorne – Louisiana Center for Children's Rights
Public Interest Law Association
Zimei Fan – Office of New York Attorney General, Consumer Fraud Investigation & Prosecution
Texas Business Law Society
Tommy Garber – Securities and Exchange Commission's Enforcement Division in New York
Sanghoon Kim – Texas Rio Grande Legal Aid – Eagle Pass
Texas International Law Journal
Jung Koo – Texas Rio Grande Legal Aid – Eagle Pass
Texas Journal on Civil Liberties & Civil Rights
Edward Cannon – Disability Rights Texas
Texas Journal of Oil, Gas, and Energy Law
Jori Reilly-Diakun – U.S. Department of Justice, Environmental and Natural Resources Division (ENRD), Natural Resource Section (NRS) in Washington, D.C.
Alexandra Jones-Lafont – Lone Star Legal Aid's Disaster Relief Team in Houston
Texas Law Review
Anne Derrig – Legal Aid Foundation of Chicago in the Children & Families Division
Thurgood Marshall Legal Society
Eyad Saqr – ACLU of Texas Houston office
Texas Review of Litigation
Ashley Bergfield – Naval Justice School (JAG) and the Texas Solicitor General's office
Texas Review of Law and Politics
Laurie Jackson – Travis County District Attorney's Office
Women's Law Caucus
Sophie Kivett – Legal Aid Society Immigration Law Unit in New York City
Sarah Gohary – Juvenile Services Program of the Public Defender Service for the District of Colombia
Becky Walker – State of Alaska Department of Law in the Child Protection Section
General Sponsorship
Joshua Brody – D.C. Public Defender Service – Civil Litigation Division
Liza Liberman – Dallas County District Attorney's Office
Nichole Montalbano – Travis County District Attorney's Office
Price Anderson – Dallas Public Defender / USAO NDTX
Ashtyn Gillie – Texas Fair Defense Project (TFDP)
Cody Combs – Department of Homeland Security's Office of the Principal Legal Advisor for Immigration and Customs Enforcement in Orlando, Florida
Samantha Whitehead – Comal County District Attorney's Office / Texas Education Agency
David Engleman – Louisiana Capital Assistance Center
Chloe McGrath – San Diego County Office of the Primary Public Defender
Taylor Loynd – Disability Rights Texas
Patrick Sellars – D.C. Public Defender Service
Julie Wilson – Department of Justice Antitrust Division / NYU's Center for Human Rights and Global Justice
Thales Smith – Office of the Attorney General of Texas / Texas Parks and Wildlife Department
Samantha Sandfort – Wildlife Law Program at Friends of Animals
Michael Schattle – US Attorney's Office in Tyler, TX / Texas Attorney General's Office in Austin
Past Fellowship Recipients