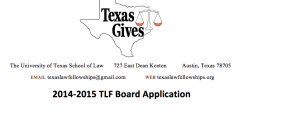 Texas Law Fellowships is currently accepting applications for the 2014–2015 Board of Directors.
TLF's 2014 Pledge Drive is underway! We have sixty applicants this year, and all of them are planning to do some amazing work this summer. Two thirds of our fellowships are reserved to go to the causes, organizations, and candidates our donors most want to support, so check out our applicants below and then click [...]
For more information about application requirements and materials, click here. Please complete the form in its entirety. We'll email you within 48 hours to confirm that we've received your application and your materails are present and complete. If you have technical difficulties or questions, email texaslawfellowships@gmail.com.